Articles | Volume 26, issue 3
https://doi.org/10.5194/npg-26-307-2019
© Author(s) 2019. This work is distributed under
the Creative Commons Attribution 4.0 License.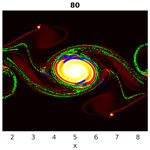 Particle clustering and subclustering as a proxy for mixing in geophysical flows
The Eulerian point of view is the traditional theoretical and numerical tool to describe fluid mechanics. Some modern computational fluid dynamics codes allow for the efficient simulation of particles, in turn facilitating a Lagrangian description of the flow. The existence and persistence of Lagrangian coherent structures in fluid flow has been a topic of considerable study. Here we focus on the ability of Lagrangian methods to characterize mixing in geophysical flows. We study the instability of a strongly non-linear double-jet flow, initially in geostrophic balance, which forms quasi-coherent vortices when subjected to ageostrophic perturbations. Particle clustering techniques are applied to study the behavior of the particles in the vicinity of coherent vortices. Changes in inter-particle distance play a key role in establishing the patterns in particle trajectories. This paper exploits graph theory in finding particle clusters and regions of dense interactions (also known as subclusters). The methods discussed and results presented in this paper can be used to identify mixing in a flow and extract information about particle behavior in coherent structures from a Lagrangian point of view.
Received: 24 Feb 2019 – Discussion started: 14 Mar 2019 – Revised: 03 Jul 2019 – Accepted: 26 Jul 2019 – Published: 16 Sep 2019
There are two different geometric approaches to fluid mechanics, the Eulerian and the Lagrangian approach. In the Eulerian approach, field values are obtained on a spatial grid, for example from numerical simulation output. In the Lagrangian approach measurement data are obtained following the fluid, as in the case of temperature measurements by a weather balloon. Many naturally occurring flows are complex, three-dimensional and, at least to some extent, turbulent. Such flows are characterized by a richness of vorticity and the rapid mixing of passive tracers as discussed in (Davidson, 2015, chap. 3). At the same time, satellite imagery suggests that large-scale flows exhibit prominent coherent patterns, and this is theoretically supported by the so-called inverse cascade of two-dimensional turbulence in which energy moves to larger scales while enstrophy moves to smaller scales (Davidson, 2015, chap. 10).
Even three-dimensional turbulent flows are known to contain quasi-deterministic coherent structures (Hussain, 1983). Coherent structures can be thought of as turbulent fluid masses having temporal correlation in vorticity over some spatial extent (e.g., a shear layer in a flow). Figure 1 shows the evolution of the enstrophy field of a two-dimensional double jet initially in geostrophic balance, subjected to ageostrophic perturbations. The evolution depicts the formation of vortices due to instability of the geostrophic flow. Coherent structures like vortices and filaments undergo frequent stretching and folding. The identification of coherent structures in turbulent flows gave the revolutionary notion in fluid mechanics that turbulent flows are not completely random but can contain orderly organized structures, and these coherent structures in specific regions can influence mixing, transport and other physically relevant features (Kline et al., 1967).
The study of coherent flow structures has received significant interest in the recent past. The existing methods for detecting coherent behavior mathematically are either geometric or probabilistic; Allshouse and Peacock (2015) discuss and compare the different methods. Geometric methods aim to find distinct boundaries between the coherent structures, whereas probabilistic methods use the concept of sets with minimal dispersion moving in a flow to identify coherent structures. Padberg-Gehle and Schneide (2017) in their introduction, however, note that existing methods for finding coherent structures require the full knowledge of the flow field and the underlying dynamical system. This, in turn, requires high-resolution trajectory data. This can be numerically expensive as well as challenging to find in applications. Hadjighasem et al. (2017), in their review of various Lagrangian techniques for finding coherent structures, say that the Lagrangian diagnostic scalar field methods are incapable of providing a strict definition of coherent flow structures and are also not effective in establishing a precise mathematical connection between the geometric features and the flow structures. Such diagnostic methods include the finite-time Lyapunov exponent (FTLE), finite-size Lyapunov exponent (FSLE), mesochronic analysis, trajectory length, trajectory complexity and shape coherence. Hadjighasem et al. (2017) also describe the various methods of applying mathematical coherence principles to locate coherent structures. However, these principles only apply for finite-time intervals from the beginning of the flow evolution; it is not guaranteed that the coherence principles comply with observed coherent patterns at later times. Examples of mathematical coherence principles include transfer operator methods like the probabilistic transfer operator (Froyland, 2013) and the dynamic Laplace operator (Froyland, 2015). These methods identify maximally coherent or minimally dispersive (not dispersive in the sense of wave theory) regions over a finite-time interval. Such regions are expected to minimally mix with the surrounding phase space and are named "almost-invariant sets" for autonomous systems and "coherent sets" for non-autonomous systems. A different mathematical approach is the hierarchical coherent pairs method (Froyland et al., 2010), which initially splits a given domain into a pair of coherent sets using the transfer operator method and then subsequently refines the coherent sets iteratively. This is accomplished using the probabilistic transfer operator. The iteration is carried out until a reference measure of the probability, μ, falls below a user-defined cutoff. A third category of mathematical approaches for finding coherent structures based on Lagrangian data is clustering. Hadjighasem et al. (2017) reviews the fuzzy C-means clustering of trajectories by Froyland and Padberg-Gehle (2015), which uses the traditional fuzzy C-means clustering to identify finite-time-coherent structures and mixing in a flow. This method uses trajectories of Lagrangian particles over discrete time intervals and applies the fuzzy C-means algorithm to locate coherent sets as clusters of trajectories according to the dynamic distances between trajectories. Another similar method for locating coherent structures is the spectral clustering of trajectories, as proposed by Hadjighasem et al. (2016) and implemented by Padberg-Gehle and Schneide (2017). Mancho et al. (2004) discusses algorithms to compute hyperbolic trajectories from data sets on oceanographic flows and how to locate their stable and unstable manifolds. Mendoza and Mancho (2010) also discuss how phase portraits obtained using Lagrangian descriptors can provide a representation of the interconnected features of the underlying dynamical system. Rose et al. (2015) uses a coupled implementation of a mix of Eulerian and Lagrangian models for simulating the full life cycles of fish species anchovy and sardine in the California Current systems. The Lagrangian model used is an individual fish-based model which tracks each fish of every species. Padberg-Gehle and Schneide (2017) used a generalized graph Laplacian eigenvalue problem to extract coherent sets from several fabricated examples (e.g., Bickley jet) as well as measured data. The authors also highlighted regions of strong mixing in flow, using local network measures like node degree and the local clustering coefficient. These local network measures provide information for each Lagrangian particle.
Inspired by these, we wish to extract regions of dense mixing in flow using a graph theoretic network approach and compare the results with those obtained from spectral clustering. We also wish to use an evolving simulation for which coherent regions evolve dynamically through stretching and folding and are not known a priori. The trajectory encounter volume idea of Rypina and Pratt (2017) is similar to our methodology, but the volume in which particles are pre-identified is chosen based on features that are assumed to be already present in the flow (i.e., eddies). Moreover, the authors state that the method breaks down for sparse grids, since it is dependent on being able to define an effective density of particles. Detailed comparison with our method is thus left to future work.
From an Eulerian point of view, mixing can be characterized by studying the advection–diffusion equation for a passive tracer θ (Salmon, 1998),
where v is the fluid velocity and κ is the diffusion coefficient. Mixing and stirring depends on the gradient of θ, and hence the extent of mixing and stirring in a given domain for a given flow can be measured by the spatial variability index
Taking the time derivative of C, and following the simplification procedure in Salmon (1998), we obtain
Fundamentally, mixing is a result of molecular diffusion, and hence the diffusive (second) term in Eq. (3) represents the effect of mixing, while the first term containing the gradient of θ represents the effect of stirring. This implies that an initial high value of ∇θ will promote mixing and hence diffusion, which in turn will to lead to a decrease in ∇θ. This can also be verified from a dynamical system's point of view. Prants (2014), in his review paper, describes mixing as follows. Let us consider the basin A with a circulation where there is a domain B with a dye occupying, at t=0, the volume V(B0). Let us consider a domain C in A. The volume of the dye in the domain C at time t is V(Bt∩C), and its concentration in C is given by the ratio . Full mixing is defined in the sense that in the course of time, for any domain C∈A, the concentration of the dye is the same as in every other region in A. However, calculating the true three-dimensional Eulerian flow field, and the distribution of θ, for an actual geophysical flow (e.g., a hurricane) is an impossible task. This is due to the immense range of scales that typifies naturally occurring fluid motions. If one considers a hurricane, active scales range from hundreds of kilometers to sub-millimeter scales. Many models in geophysical fluid dynamics thus focus on representing the coherent scales of motion. In such cases the fundamentally three-dimensional motions that would carry out efficient mixing are filtered out during the theoretical derivation of the governing equations. A Lagrangian approach to mixing, based on particle proximity, may thus be more profitable. This is because it allows for an idealized representation of the three-dimensional turbulence that is ignored by the governing equations.
Klimenko (2009) provides an example of this approach to describe mixing. His idea is stochastic, where each particle has a deterministic component of motion governed by the known flow field and a random walk component. The particles are assigned scalar properties which can change due to mixing. The random walk component depends on the joint probability distribution of the particle as functions of position and the scalar properties. In his equation (36) the author defines the intensity of mixing between two particles as proportional to the distance between the particles in physical space. Inspired by Klimenko (2009), we use a numerically inexpensive version of this idea by loosely saying that there is some non-zero probability of mixing with exchange of properties taking place between two particles that approach below a given threshold, and a qualitative measure of mixing is given by interaction among particles. Interaction, once occurred, is counted as a unit of mixing, and our hypothesis says that if we have three particles, say, A, B and C, and if particle A interacts with particle B and if particle B interacts with particle C, then, indirectly, particle A has interacted with particle C to some extent. We then extend this idea to the assumption that a region comprising of a higher number of interacting particles corresponds to one with higher probabilities of mixing. The technical details are discussed in Sect. 2.3.
The remaining parts of the paper are structured in the following manner. Section 2 discusses the methods used in our work including the governing equations and description of the numerical code used to solve them. This is followed by the methods for clustering particles (Sect. 2.2), identifying regions of mixing (Sect. 2.3) and the methods for spectral clustering (Sect. 2.4). Section 3 presents a detailed discussion of the results obtained by implementing each of the methods above and also draws relevant comparisons as needed. The final section, Sect. 4, concludes the work and highlights the major findings.
In this paper we have outlined a Lagrangian-particle-based technique to gain insight into mixing in non-linear geophysical flows. Our literature survey showed that clustering of particles based on inter-particle distances has been used to characterize mixing from a Lagrangian point of view. Local network measures like node degree and the local clustering coefficient of a particle, employed by previous researchers, e.g., Padberg-Gehle and Schneide (2017), gives an idea about the number of other particles that a chosen particle has interacted with, or "neighbors". We have taken this approach one step further by finding subclusters representing regions of dense interactions. The findings of our work can be partly summarized by Fig. 17. In this figure we examine the output time 80, at which the double jet has broken up into a number of quasi-coherent vortices, as well as filaments of vorticity. The enstrophy field, scaled by its maximum, is shaded in the figure, with green dots superimposed to show particles from a few of the largest cumulative clusters. This gives us an indication of particles that have passed through regions where mixing has taken place. The algorithm Quick is used to identify subclusters of particles with dense mutual interactions (i.e., strongest mixing). These particles are plotted in blue. These particles, and their path history, identify regions where the degree of mixing is relatively higher (regulated by a density parameter γ) than other portions of the cumulative clusters. In summary, this figure tells us that the outskirts of the large, coherent vortices involve the strongest mixing. The vorticity filaments away from the quasi-coherent vortices are marked as belonging to regions of mixing but not the strongest mixing. The subclustering method thus provides a way to gain further detail on mixing intensity from a Lagrangian point of view.
We have compared our results with the coherent structures identified by spectral clustering. Spectral clustering shows that the location of the coherent structures is around the vortices but fails to point out the regions of strong mixing. As discussed in Sect. 2.4, the method of finding dense clusters is more precise and robust.
Summarizing the major findings in our work, we have seen that the size of cumulative clusters depends on the threshold interaction distance ϵ. In fact previous works like Padberg-Gehle and Schneide (2017) have only used values of ϵ larger than the grid spacing in order to make the entire graph connected and then apply techniques like spectral clustering to extract coherent sets. Our approach has allowed us to set ϵ to be smaller than the grid spacing (i.e., to demand stronger interactions as a proxy for more mixing) and observe the differences in cluster structure. We have inferred that cluster merging is possible beyond a threshold ϵ. Regions of strong and dense mixing are concentrated along the outskirts of the quasi-coherent vortices that develop spontaneously in the simulation, implying that coherent behavior can induce a lot of mixing, as demonstrated in Fig. 17. The highly interactive particles from the dense subclusters usually stay as a part of their original coherent vortex. However, interesting dynamics are present when some of these particles deviate out of their typical paths and mix with other regions in the flow, as discussed in Sect. 2.3. Indeed, results from spectral clustering show that some particles showing coherent behavior may become incoherent over time. The striking similarities between the behavior of the coherent spectral clusters and the dense subclusters indicate that dense interaction, and thereby inferred mixing, is a characteristic of coherent structures. A study of the effects of parameter variation on the dense subclustering technique showed that ϵ should be chosen small enough to produce a satisfactory amount of information content about the regions of mixing. The smaller the minimum degree of interaction, the stronger the mixing represented by the mined regions. The minimum degree is controlled by parameters min_size and γ, where min_size is really a choice of the user based on the application and γ can be tuned to hit the optimal minimum degree value. The technique thus requires some tuning from the user.
Future work divides into algorithmic improvements and applications. On the algorithmic side, we would like to automate the selection of search parameters (γ and min_size) in Quick, based on the adjacency matrix. A GPU-based implementation of the shallow-water-equation solver, the Lagrangian particle tracking and dynamic calculation of the inter-particle interactions will also be presented in a future paper. On the application side, the central future challenge is how to appropriately think of particles, and hence Lagrangian-based mixing ideas, in more complex models. For example, should particles migrate across isopycnal layer boundaries in multilayer models?
The data we use for this work are simulation data, which are obtained by running code.
RC carried out majority of the computation, analysis and writing, including research and software development of clustering and data mining algorithms and parallelization of algorithms in CUDA. AC contributed to the software development of the numerical solver for shallow water equations in CUDA. MS carried out majority of the literature research and supervision of the work and also contributed to the editing of the paper.
The authors declare that they have no conflict of interest.
This paper was edited by Harindra Joseph Fernando and reviewed by two anonymous referees.
Al-Kahby, H., Dannan, F., and Elaydi, S.: Non-standard discretization methods for some biological models. Applications of nonstandard finite difference schemes, World Scientific, Singapore, 155–180, 2000. a
Allshouse, M. R. and Peacock, T.: Lagrangian based methods for coherent structure detection, Chaos, 25, 097617, https://doi.org/10.1063/1.4922968, 2015. a
Ascher, U. M. and Petzold, L. R.: Computer methods for ordinary differential equations and differential-algebraic equations, SIAM, 61, 37–61, 1998. a
Davidson, P.: Turbulence: an introduction for scientists and engineers, Oxford University Press, North York, ON, Canada, 2015. a, b
Fiedler, M.: Algebraic connectivity of graphs, Czech. Math. J., 23, 298–305, 1973. a
Froyland, G.: An analytic framework for identifying finite-time coherent sets in time-dependent dynamical systems, Physica D, 250, 1–19, 2013. a
Froyland, G.: Dynamic isoperimetry and the geometry of Lagrangian coherent structures, Nonlinearity, 28, 3587, https://doi.org/10.1088/0951-7715/28/10/3587, 2015. a
Froyland, G. and Padberg-Gehle, K.: A rough-and-ready cluster-based approach for extracting finite-time coherent sets from sparse and incomplete trajectory data, Chaos, 25, 087406, https://doi.org/10.1063/1.4926372, 2015. a
Froyland, G., Santitissadeekorn, N., and Monahan, A.: Transport in time-dependent dynamical systems: Finite-time coherent sets, Chaos, 20, 043116, https://doi.org/10.1063/1.3502450, 2010. a
Hadjighasem, A., Karrasch, D., Teramoto, H., and Haller, G.: Spectral-clustering approach to Lagrangian vortex detection, Phys. Rev. E, 93, 063107, https://doi.org/10.1103/PhysRevE.93.063107, 2016. a, b
Hadjighasem, A., Farazmand, M., Blazevski, D., Froyland, G., and Haller, G.: A critical comparison of Lagrangian methods for coherent structure detection, Chaos, 27, 053104, https://doi.org/10.1063/1.4982720, 2017. a, b, c
Hussain, A. K. M. F.: Coherent structures–reality and myth, Phys. Fluids, 26, 2816, https://doi.org/10.1063/1.864048, 1983. a
Klimenko, A.: Lagrangian particles with mixing. I. Simulating scalar transport, Phys. Fluids, 21, 065101, https://doi.org/10.1063/1.3147925, 2009. a, b
Kline, S. J., Reynolds, W. C., Schraub, F., and Runstadler, P.: The structure of turbulent boundary layers, J. Fluid Mech., 30, 741–773, 1967. a
Kundu, P. K., Cohen, I., and Hu, H.: Fluid mechanics, Elsevier Academic Press, San Diego, 2004. a
Liu, G. and Wong, L.: Effective pruning techniques for mining quasi-cliques, in: Joint European conference on machine learning and knowledge discovery in databases, Springer, Springer, Berlin, Heidelberg, 33–49, 2008. a, b, c, d
Lloyd, S.: Least squares quantization in PCM, IEEE T. Inform. Theory, 28, 129–137, 1982.  a
Mancho, A. M., Small, D., and Wiggins, S.: Computation of hyperbolic trajectories and their stable and unstable manifolds for oceanographic flows represented as data sets, Nonlin. Processes Geophys., 11, 17–33, https://doi.org/10.5194/npg-11-17-2004, 2004. a
Mendoza, C. and Mancho, A. M.: The Lagrangian description of aperiodic flows: a case study of the Kuroshio Current, arXiv preprint, arXiv:1006.3496, 2010. a
Garland, M., Le Grand, S., Nickolls, J., Anderson, J., Hardwick, J., Morton, S., Phillips, E., Zhang, Y., and Volkov, V.: Parallel computing experiences with CUDA, IEEE Micro, 28, 13–27, 2008. a
NVIDIA Corporation: CUDA CUFFT Library, version PG-05327-032_V02, NVIDIA Corporation, CA, USA, 2010. a
Padberg-Gehle, K. and Schneide, C.: Network-based study of Lagrangian transport and mixing, Nonlin. Processes Geophys., 24, 661–671, https://doi.org/10.5194/npg-24-661-2017, 2017. a, b, c, d, e, f
Prants, S.: Chaotic Lagrangian transport and mixing in the ocean, Eur. Phys. J.-Spec. Top., 223, 2723–2743, 2014. a
Rose, K. A., Fiechter, J., Curchitser, E. N., Hedstrom, K., Bernal, M., Creekmore, S., Haynie, A., Ito, S.-i., Lluch-Cota, S., Megrey, B. A., Edwards, C. A., Checkley, D., Koslow, T., McClatchie, S., Werner, F., MacCall, A., and Agostini, V.: Demonstration of a fully-coupled end-to-end model for small pelagic fish using sardine and anchovy in the California Current, Prog. Oceanogr., 138, 348–380, 2015. a
Rypina, I. I. and Pratt, L. J.: Trajectory encounter volume as a diagnostic of mixing potential in fluid flows, Nonlin. Processes Geophys., 24, 189–202, https://doi.org/10.5194/npg-24-189-2017, 2017. a
Salmon, R.: Lectures on geophysical fluid dynamics, Oxford University Press, North York, ON, Canada, 1998. a, b
Shi, J. and Malik, J.: Normalized cuts and image segmentation, Departmental Papers (CIS), p. 107, 2000. a
Zeng, Z., Wang, J., Zhou, L., and Karypis, G.: Coherent closed quasi-clique discovery from large dense graph databases, in: Proceedings of the 12th ACM SIGKDD international conference on Knowledge discovery and data mining, 20–23 August 2006, Philadelphia, PA, USA, ACM, 797–802, 2006. a