Articles | Volume 28, issue 2
https://doi.org/10.5194/npg-28-181-2021
© Author(s) 2021. This work is distributed under
the Creative Commons Attribution 4.0 License.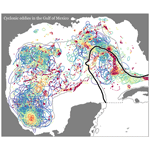 Extracting statistically significant eddy signals from large Lagrangian datasets using wavelet ridge analysis, with application to the Gulf of Mexico
A method for objectively extracting the displacement signals associated with coherent eddies from Lagrangian trajectories is presented, refined, and applied to a large dataset of 3770 surface drifters from the Gulf of Mexico. The method, wavelet ridge analysis, is a general method for the analysis of modulated oscillations, here modified to be more suitable to the eddy-detection problem. A means for formally assessing statistical significance is introduced, addressing the issue of false positives arising by chance from an unstructured turbulent background and opening the door to confident application of the method to very large datasets. Significance is measured through a frequency-dependent comparison with a stochastic dataset having statistical and spectral properties that match the original, but lacking organized oscillations due to eddies or waves. The application to the Gulf of Mexico reveals major asymmetries between cyclones and anticyclones, with anticyclones dominating at radii larger than about 50 km, but an unexpectedly rich population of highly nonlinear cyclones dominating at smaller radii. Both the method and the Gulf of Mexico eddy dataset are made freely available to the community for noncommercial use in future research.
Received: 22 Aug 2020 – Discussion started: 31 Aug 2020 – Revised: 20 Jan 2021 – Accepted: 06 Mar 2021 – Published: 20 Apr 2021
Trajectories from freely drifting, or Lagrangian, instruments are one of the major windows into observing the ocean circulation. A perennial theme in oceanography is the study of long-lived vortex structures, also known as coherent eddies, and their role in influencing the large-scale circulation. On account of these two factors, an important data analysis problem is to be able to accurately, objectively,1 and automatically detect signals in Lagrangian data arising from instruments trapped in eddies and to use these extracted signals to estimate the physical properties of the eddies themselves.
Obtaining a satisfactory solution to this problem that could scale to very large datasets would enable a rigorous eddy census of the entire surface drifter dataset from NOAA's Global Drifter Program (Lumpkin and Pazos, 2007), currently consisting of about 25 000 trajectories. It would also, significantly, permit one to compare an eddy census from real-world surface drifters with those from synthetic trajectories in high-resolution numerical models. This type of Lagrangian model–data intercomparison offers considerable potential for refining models and also for querying the models to better understand what is being observed in data, but this is not yet possible due to limitations of available analysis methods.
The problem of identifying and estimating the properties of coherent eddies in Lagrangian trajectories should be distinguished from the problem of describing the aggregate forms of trajectories due to the eddies they contain. To help clarify this, we introduce the term "eddy signal" to mean the displacement of a particle about an eddy's center. We would then see a trajectory as a superposition of different types of signals: e.g., an eddy signal, a near-inertial signal, and a mean flow. Whereas methods such as that of Dong et al. (2011) as well as the spin parameter method of Veneziani et al. (2005a, b) are concerned with identifying or modeling the aggregate trajectory, here we are interested in identifying and extracting eddy signals themselves. This interest complements examinations of the statistical imprint of eddies on trajectories using the spin parameter approach (Griffa et al., 2008; Lumpkin, 2016; Cetina-Heredia et al., 2019).
Identifying eddies in trajectories is sometimes equated with finding trajectories that execute loops, and indeed the term "looper" is sometimes used to mean "a trajectory containing an eddy". However, one must be very cautious about forming this equivalence as there is not a one-to-one relationship between trajectory loops and particle displacements due to eddy currents. Simply changing the value of an advecting flow will alter the appearance of, or even eliminate, trajectory loops for a given eddy signal. Similarly, a trajectory can form a loop for many reasons that do not involve a coherent eddy. For these reasons, eddy detections and property estimates based solely on the visual appearance of trajectories should be considered only as rough approximations.
Various methods have been proposed over the years for identifying and extracting eddy signals from Lagrangian trajectories (e.g., Kirwan et al., 1984, 1988; Armi et al., 1989; Flament et al., 2001; Testor and Gascard, 2003; Lankhorst, 2006); see Dong et al. (2011) for a useful review. Generally speaking, a difficulty faced by such methods is that fact that the frequency of the eddy signal is not only unknown a priori, but it also tends to vary substantially with time, as seen for example in Flament et al. (2001). This frequency modulation makes the study of eddy signals substantially more difficult than, for example, studying tides, which occur at known and fixed frequencies. Narrowband methods such as bandpassing or complex demodulation would therefore perform quite poorly. In order to accommodate such frequency modulation, the above methods generally contain free parameters that must be chosen by an analyst. Because of the need for hand tuning for individual trajectories, applications of such methods to large datasets would be problematic.
A major step in the eddy extraction problem was taken by Lilly and Gascard (2006). In that paper, an innovative and powerful method from signal analysis termed wavelet ridge analysis (Delprat et al., 1992; Mallat, 1999) was modified for application to Lagrangian trajectories. That method is designed to detect and analyze modulated oscillations, that is, oscillations whose amplitude and frequency vary as a function of time. This type of signal accords well with our physical expectations for the displacement of a particle trapped in a vortex. The wavelet ridge method is able to automatically extract frequency-modulated signals occurring somewhere within a chosen range of frequencies, without the need to tune parameters for an individual time series. A compelling aspect of this method is that it begins with the specification of the type of object we are looking for, namely, a modulated oscillation, a type of signal for which there exists a solid theoretical foundation (Gabor, 1946; Picinbono, 1997).
An application of the wavelet ridge analysis method to trajectories from a numerical model of an unstable jet on a beta plane (Lilly et al., 2011) showed that the method could accurately and automatically extract eddy signals from a set of 100 trajectories and that these could be unambiguously discriminated from oscillatory signals due to Rossby waves or jet meander. The wavelet ridge analysis method has been employed by a number of other authors (e.g., Garreau et al., 2011; Alpers et al., 2013; Bower et al., 2013; Le Hénaff et al., 2014; Inoue et al., 2016; Kourafalou et al., 2017; Furey et al., 2018; de Jong et al., 2018; Le Hénaff et al., 2020) using the software implementation created by Lilly and Gascard (2006) and appears to now be the standard method for extracting eddy signals from Lagrangian data. The method was further refined and extended in a series of follow-up papers (Lilly and Olhede, 2009a, 2010b, 2012a), including the treatment of bias errors arising from modulation strength in Lilly and Olhede (2010a, 2012a).
The wavelet ridge analysis method allows one to readily analyze datasets with dozens or perhaps hundreds of trajectories. However, there is a major challenge which prevents it – or any other eddy-extraction method – from being immediately applicable to very large datasets consisting of thousands or tens of thousands of trajectories. This is the problem of false-positive features arising from the interaction of the detection method with the turbulent background flow. For small to medium-size datasets such events may be readily identified with a visual scan, but that subjective operation becomes unwieldy for larger datasets.
In previous work (Lilly et al., 2017), we have shown that Lagrangian trajectories in forced-dissipative quasigeostrophic turbulence can be usefully separated into two classes: those that contain high-frequency oscillatory signals associated with trapping within coherent eddies and those that do not. Trajectories in the latter class are remarkably similar to those resulting from a type of damped random walk; see Figs. 2 and 3 therein. This supports the conceptual model that trajectories containing eddies consist of the sum of an eddy signal, superposed on a stochastic process that arises from geostrophic turbulence and that may be considered "noise" from the point of view of detecting eddies.
The stochastic background flow can be the source of spurious features that masquerade as coherent eddies, a phenomenon that can be understood as follows. In the one-dimensional case, a discrete random walk is intuitively described as a drunk staggering between lampposts. In the two-dimensional case, the drunk has a grid of lampposts available for their staggering. From time to time the drunk will, by chance, happen to turn in a circle or oscillate back and forth between two lampposts. This illustrates why, in applying the wavelet ridge analysis to time series of stochastic processes analogous to the random walk, oscillatory events are occasionally detected. One would not wish to confuse random features arising from the turbulent background with the organized oscillations due to coherent eddies.
This paper has three objectives. Firstly, the ridge analysis method of Lilly and Gascard (2006) is streamlined and updated with several important refinements, a deeper discussion of the connection to signal processing theory, and with sufficient background on the wavelet transform itself so as to be self-contained. Secondly, the method is applied to a set of several thousand drifter trajectories from the Gulf of Mexico (see Fig. 1), leading to the identification of a set of statistically significant eddy signals, shown in Fig. 2. This Gulf of Mexico eddy dataset is freely distributed to the community for noncommercial uses, as described at the end of the paper, and is being used in a sequel to investigate the eddy dynamics in this environmentally and societally important region. Finally, the false-positive problem is solved through the application of the ridge analysis method to a synthetically created noise dataset matching the basic statistical properties of the observations, together with the introduction of an innovative frequency-dependent significance criterion.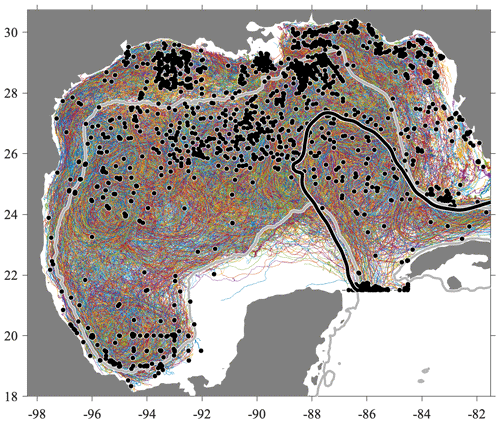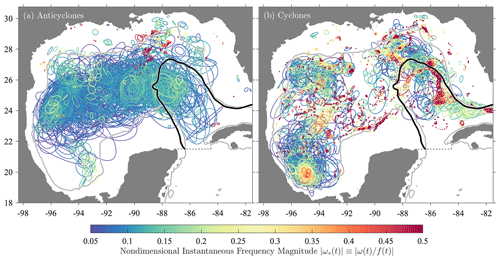 As motivation for the investment required in learning this method, the results of the application to the Gulf of Mexico will be briefly described at the outset. The dataset to be analyzed in this work is a set of 3770 surface drifter trajectories, compiled from a variety of experiments, processed, and quality controlled as described in Lilly and Pérez-Brunius (2021a), shown in Fig. 1. Applying the method developed here, one is able to extract from the drifter trajectories a set of contiguous, possibly overlapping displacement signals consisting of modulated oscillations in two dimensions. The portion of such signals judged to be statistically significant, in the sense of occurring at a rate at least 10× greater than that expected under the noise hypothesis, is identified. These are visualized in Fig. 2 as a series of ellipses, colored here by a nondimensional frequency magnitude that when multiplied by 2 becomes a measure of Rossby number.
The distributions of cyclonic and anticyclonic events are completely different. The dense populations of large anticyclonic eddies filling the central Gulf of Mexico are the well-known Loop Current Eddies (e.g., Elliott, 1982; Lipphardt et al., 2008; Hall and Leben, 2016). These shed periodically from the energetic Loop Current, then propagate westward. Only a handful of small, intense anticyclones are observed, mostly located between the Loop Current and the Mississippi outflow region. On the cyclonic side, a hotspot of activity is seen in the southern Gulf of Mexico, corresponding to a persistent cyclonic eddy known as the Campeche Gyre (Padilla-Pilotze, 1990; Vázquez De La Cerda et al., 2005; Pérez-Brunius et al., 2013). On the periphery of the Loop Current, intense mesoscale cyclones are seen, the Loop Current Frontal Eddies (LCFEs); see, e.g., Le Hénaff et al. (2014). Similar features occur also in the western Gulf of Mexico but are of an unknown origin. In what appears to be a new result, sub-10 km, submesocale eddies with Rossby numbers approaching or exceeding unity are found throughout the region, visible in this plot as small red circles. This figure is an unprecedented view of the eddy activity in the Gulf of Mexico and illustrates the potential of the method to illuminate aspects of the circulation that are otherwise buried in trajectories.
The structure of the paper is as follows. A mathematical model for the motion of a particle trapped in an eddy is presented in Sect. 2. The means of extracting such signals from displacement time series that are also influenced by a turbulent background flow is developed in Sect. 3, building on Lilly and Gascard (2006) and subsequent work. The application to the Gulf of Mexico and the creation of a statistical significance measure are accomplished in Sect. 4. A brief discussion of the statistically significant eddy events is then given, followed by the Conclusions. Further examination of the Gulf of Mexico eddy signals and their implications for eddy dynamics and life cycles in this region is left to a sequel. All code developed for this paper is distributed as a part of a freely available MATLAB toolbox, including a convenient and self-contained eddy extraction function, as described following the Conclusions. Finally the Gulf of Mexico Eddy Dataset (GOMED), which includes the signals shown in Fig. 2 and their ellipse parameters, is described. Because a large number of different mathematical symbols are used in this paper, Table A1, located after the Conclusions, presents an overview of some of the most important ones.
2
 A model for particle motion in an eddy
In the previous section, it was shown that given a trajectory consisting of only a single modulated elliptical signal, a unique assignment of time-varying ellipse parameters that could have generated it may be found by forming the associated analytic signal. Real-world eddies, however, do not occur in isolation, but rather they are superposed onto flows due to large-scale turbulence, other eddies, waves, and any self-propagation tendency of the eddy itself. To adapt the analytic signal method to handle realistic trajectories, we therefore need to incorporate a filtering step. This is accomplished using the continuous wavelet transform, as described next. We remind the reader that the notation list in Table A1 is available as a resource.
4
 Application to the Gulf of Mexico drifter dataset
In this section the wavelet ridge analysis method is applied to the Gulf of Mexico drifter dataset presented in Fig. 1. Issues of false positives are addressed, leading to an edited eddy dataset where such features are believed to be rare. Note that in this section we omit the "m" superscripts on modulated oscillation and ridge quantities to avoid excessive notation.
This paper has presented a method for extracting the displacement signals associated with coherent eddies, and for estimating the properties of the features that generated those signals, from large Lagrangian datasets. The method is rooted in ideas taken from the signal analysis literature, such as the analytic signal, modulated oscillations, and wavelet analysis. As these ideas are not yet all widely known in oceanography, they were introduced in some detail and discussed in the context of the eddy-detection problem.
A modification of an existing analysis method, multivariate wavelet ridge analysis, to prohibit sign transitions between cyclonic and anticyclonic polarizations renders it more suitable for this application. The main innovation, however, is a means of determining statistical significance, which is done through the creation of a null hypothesis in the form of a noise dataset constructed to match the basic statistical properties of the real-world data, yet lacking organized oscillatory features arising from spectral peaks. A significance criterion is proposed in which the distribution of a combined parameter, reflecting both the number of oscillations executed as well as the degree of circular polarization, in the data is compared with that of the noise as a function of frequency, in order to identify parameter regimes in which the noise is unlikely to have generated the observed features.
The statistically significant features emerging from an application to a large surface drifter dataset from the Gulf of Mexico were briefly discussed. It is clear that there is much to be learned about the Gulf of Mexico eddy field through studying these eddy ellipses. Here, in order to maintain a focus on the analysis method, the attention paid to physical results is intentionally kept to a minimum. These will be thoroughly investigated in a follow-up paper.
The incorporation of a criterion for determining statistical significance makes possible the application of the eddy-extraction method to very large datasets. This has great potential not only for studying eddies in real-world data with a new level of detail, but also for providing a novel means of comparing eddy characteristics from numerical models with those from observations. In particular, the eddy census for the Gulf of Mexico indicates that large-scale studies of submesoscale cyclonic vortices from in situ data are now possible for the first time. The distribution of a self-contained analysis routine, discussed below, is aimed to help facilitate the usage of this method by other investigators.
It is intended that this paper provides the groundwork for a multi-paper effort to solve the eddy extraction and property estimation problem as completely and rigorously as possible. Future efforts will include (i) examining the behavior of the method with regard to exact analytic vortex solutions such as those reviewed in Lilly (2018); (ii) exploring the potential of ridge analysis in the light of the connections established by Lilly (2018) between Lagrangian ellipse properties and the kinematic flow properties of vorticity, strain, and divergence; (iii) understanding the bias estimate of Lilly and Olhede (2012a) in terms of eddy dynamics through applications to idealized numerical models as well as to analytic solutions; and finally (iv) connecting this Lagrangian trajectory perspective to the rigorous Lagrangian field theory of Haller and Beron-Vera (2012) and related works.
Appendix A:
 Construction of the synthetic signal
The synthetic signal shown in Fig. 4a is formed using the ellipse generation equation, Eq. (1), with parameters
where ωo=0.05 rad d−1, κo=10 km, and T=1000 d, the latter being the signal duration. The semi-axis lengths are recovered via Eqs. (32) and (33). These choices lead to a clockwise circulating ellipse with a linearly growing amplitude, κ(t), that increases 6-fold over the signal duration T and also a linearly increasing orbital frequency, , that doubles. The ellipse is purely circular for the first quarter of its duration, . After that, it begins to become increasingly elliptical, reaching a vanishing circularity ξ(t)=0 at t=T while steadily precessing in the clockwise direction at a rate that is 10 % of its initial orbital frequency, .
The time-varying period corresponding to this signal, shown in Fig. 8b as the thin gray line, is computed by differentiating the generating ellipse parameters as . This is based on the form of Eq. (36) for the instantaneous frequency in terms of the canonical ellipse parameters.
The composite signal shown in Fig. 5 is constructed by adding the elliptical signal generated above to (i) a uniform westward drift at 0.5 cm s−1 plus (ii) a stochastic component. For the latter, we use a Matérn velocity process, shown by Lilly et al. (2017) to be equivalent to damped fractional Brownian motion, as implemented by the jLab function maternoise. Referring to Eq. (47) in that reference, the velocity standard deviation σ is set to σ=0.25 cm s−1, the spectral slope parameter α is chosen as α=1 giving a high-frequency decay of ω−2, and the damping parameter λ is set to λ=0.1 d−1. This velocity process is then cumulatively summed to generate a displacement signal.
Lilly and Olhede (2012a)
All numerical code required for the analysis carried out in this paper is distributed to the community as a part of jLab, the lead author's open-source data analysis toolbox for MATLAB, available at GitHub (https://github.com/jonathanlilly/jLab, last access: 16 March 2021) and Zenodo (https://doi.org/10.5281/zenodo.4547006, Lilly, 2021) and with extensive documentation found at http://www.jmlilly.net/doc/jLab.html (last access: 16 March 2021).
The centerpiece needed for this work is a new function, eddyridges, that implements the one-sided multivariate wavelet ridge analysis on an entire multi-instrument Lagrangian dataset. This may be applied either to latitude–longitude trajectories, as we have done here, or to trajectories on the x–y plane such as may be output from a numerical model. This function extends and greatly simplifies the approach used in Lilly and Gascard (2006) and Lilly et al. (2011), which involved directly calling the lower-level ridgewalk function implementing the ridge analysis. Construction of the noise dataset is done through the use of the function noisedrifters, and the significance levels are then assessed through eddylevels. Assorted other functions for computing ellipse properties, integration and differentiation on the sphere, and so forth are also included; see the jEllipses and jOceans modules. Finally, the toolbox contains scripts for creating the gomed.nc dataset, called make_gomed, and for generating all figures in this paper, called makefigs_gulfcensus.
Whereas for simplicity the handling of spherical geometry has been discussed herein using a small angle expansion about a fixed point, the numerical implementation in eddyridges takes a different approach that offers better performance for trajectories covering large distances on the surface of the Earth. This algorithm, using a routine called spheretrans, which works as follows. First, latitudes and longitudes are converted to a position in three-dimensional space, and the wavelet transform of that displacement signal in three dimensions is taken. The wavelet transform is then projected back onto a plane tangent to the Earth, centered on the time-varying center of the oscillation in each band of the transform considered separately. The multivariate ridge analysis is then applied to the resulting bivariate wavelet transform vector. Thus the method uses a projection about a moving point that is suitable for each oscillation considered separately, rather than a single fixed point for an entire dataset.
The dataset utilized in this paper is the consolidated surface drifter dataset created by Lilly and Pérez-Brunius (2021a) and referred to as GulfDriftersAll therein. While a subset of these data is proprietary and unfortunately cannot be redistributed, the bulk of that dataset is publicly available and is released to the community as the NetCDF file GulfDriftersOpen, available at https://doi.org/10.5281/zenodo.3985916 (Lilly and Pérez-Brunius, 2021b).
The results of applying the multivariate wavelet ridge analysis to GulfDriftersAll are distributed to the community as the Gulf of Mexico Eddy Dataset (GOMED) at https://doi.org/10.5281/zenodo.3978803 (Lilly and Pérez-Brunius, 2021c). In keeping with conditions stipulated by the primary funding agent, this dataset is made freely available for academic use with the agreement that it shall not be sold, profited from, or redistributed. Table A1 provides an overview of all variables contained in GOMED, which is distributed as the NetCDF file gomed.nc. Variables include extracted eddy displacement signals for all ridges, significant or not, detected using the settings described herein, as well as the time-varying ellipse parameters and estimated ellipse center location. The data include eddy displacement signals for all ridges, as well as the time-varying ellipse parameters and estimated ellipse center locations. The instantaneous frequency is also included, as is the instantaneous bias estimate derived by Lilly and Olhede (2012a). The data are organized as appended trajectory data that can be readily separated through the use of the ids field, or by calling the jLab function ncload. The ridge length L and ridge-averaged circularity are also included, as is the measure of statistical significance ρ.
JML was responsible for the theory, coding, analysis, and writing. PPB was responsible for obtaining funding, for the planning, deployment, and upstream processing of several of the datasets utilized herein, for managing the sharing of the GOMED dataset, and for finding the legal pathway to make this dataset publicly available. She also provided regional expertise and guidance throughout this project.
The authors declare that they have no conflict of interest.
This is a contribution of the Gulf of Mexico Research Consortium (CIGoM). We acknowledge the specific request of Petróleos Mexicano (Pemex) to the Hydrocarbon Fund to address the environmental effects of oil spills in the Gulf of Mexico that made this project possible. We are grateful to Paula García, Argelia Ronquillo, Favio Medrano, and the support from Dirección de Telemática and Dirección de Impulso a la Innovaciń y el Desarrollo at CICESE, as well as Omar Monroy (Mink Global), for their help in the IT and legal aspects required for making GOMED available. Finally, we wish to thank the two anonymous reviewers for their constructive feedback.
This research has been partially funded by the Mexican National Council for Science and Technology – Mexican Ministry of Energy – Hydrocarbon Fund, project 201441. The work of Jonathan M. Lilly was supported in part by award no. 1658564 from the Physical Oceanography program of the United States National Science Foundation.
This paper was edited by Stefano Pierini and reviewed by two anonymous referees.
Alpers, W., Brandt, P., Lazar, A., Dagorne, D., Sow, B., Faye, S., Hansen, M. W., Rubino, A., Poulain, P.-M., and Brehmer, P.: A small-scale oceanic eddy off the coast of West Africa studied by multi-sensor satellite and surface drifter data, Remote Sens. Environ., 129, 132–143, https://doi.org/10.1016/j.rse.2012.10.032, 2013. a
Arai, M. and Yamagata, T.: Asymmetric evolution of eddies in rotating shallow water, Chaos, 4, 163–175, https://doi.org/10.1063/1.166001, 1994. a
Armi, L., Hebert, D., Oakey, N., Price, J. F., Richardson, P., and Rossby, H.: Two years in the life of a Mediterranean salt lens, J. Phys. Oceanogr., 19, 354–370, https://doi.org/10.1175/1520-0485(1989)019<0354:TYITLO>2.0.CO;2, 1989. a
Bedrosian, E.: A product theorem for Hilbert transforms, Proc. IRE, 51, 868–869, https://doi.org/10.1109/PROC.1963.2308, 1963. a
Benjamini, Y. and Hochberg, Y.: Controlling the false discovery rate: a practical and powerful approach to multiple testing, J. Roy. Stat. Soc. B Met., 57, 289–300, https://doi.org/10.1111/j.2517-6161.1995.tb02031.x, 1995. a
Bosse, A., Fer, I., Lilly, J. M., and Søiland, H.: Dynamical controls on the longevity of a non-linear vortex: the case of the Lofoten Basin Eddy, Sci. Rep.-UK, 9, 13448, https://doi.org/10.1038/s41598-019-49599-8, 13448, 2019. a
Bower, A. S., Hendry, R. M., Amrhein, D. E., and Lilly, J. M.: Direct observations of formation and propagation of subpolar eddies into the subtropical North Atlantic, Deep-Sea Res., 39, 15–41, https://doi.org/10.1016/j.dsr2.2012.07.029, 2013. a
Cetina-Heredia, P., Roughan, M., van Sebille, E., Keating, S., and Brassington, G. B.: Retention and leakage of water by mesoscale eddies in the East Australian Current system, J. Geophys. Res.-Oceans, 124, 2485–2500, https://doi.org/10.1029/2018JC014482, 2019. a
Cho, J. Y.-K. and Polvani, L. M.: The emergence of jets and vortices in freely-evolving, shallow-water turbulence on a sphere, Phys. Fluids, 8, 1531–1552, https://doi.org/10.1063/1.868929, 1996. a
Cushman-Roisin, B. and Tang, B.: Geostrophic turbulence and the emergence of eddies beyond the radius of deformation, J. Phys. Oceanogr., 20, 97–113, https://doi.org/10.1175/1520-0485(1990)020<0097:GTAEOE>2.0.CO;2, 1990. a
Cushman-Roisin, B., Heil, W., and Nof, D.: Oscillations and rotations of elliptical warm-core rings, J. Geophys. Res.-Oceans, 20, 11756–11764, https://doi.org/10.1029/JC090iC06p11756, 1985. a
D'Asaro, E. A., Walker, S., and Baker, E.: Structure of two hydrothermal megaplumes, J. Geophys. Res.-Oceans, 99, 20361–20373, https://doi.org/10.1029/94JC01846, 1994. a
Daubechies, I. and Paul, T.: Time-frequency localisation operators: a geometric phase space approach II – The use of dilations and translations, Inverse Probl., 4, 661–680, https://doi.org/10.1088/0266-5611/4/3/009, 1988. a
de Jong, M. F., Søiland, H., Bower, A. S., and Furey, H. H.: The subsurface circulation of the Iceland Sea observed with RAFOS floats, Deep-Sea Res. Pt. I, 141, 1–10, https://doi.org/10.1016/j.dsr.2018.07.008, 2018. a
Delprat, N., Escudié, B., Guillemain, P., Kronland-Martinet, R., Tchamitchian, P., and Torrésani, B.: Asymptotic wavelet and Gabor analysis: Extraction of instantaneous frequencies, IEEE T. Inform. Theory, 38, 644–665, https://doi.org/10.1109/18.119728, 1992. a, b, c
Dong, C., Liu, Y., Lumpkin, R., Lankhorst, M., Chen, D., McWilliams, J. C., and Guan, Y.: A scheme to identify loops from trajectories of oceanic surface drifters: an application in the Kuroshio extension region, J. Atmos. Ocean. Tech., 28, 1167–1176, https://doi.org/10.1175/JTECH-D-10-05028.1, 2011. a, b
Eldevik, T. and Dysthe, K. B.: Spiral eddies, J. Phys. Oceanogr., 32, 851–869, https://doi.org/10.1175/1520-0485(2002)032<0851:SE>2.0.CO;2, 2002. a
Elliott, B. A.: Anticyclonic rings in the Gulf of Mexico, J. Phys. Oceanogr., 12, 1292–1309, https://doi.org/10.1175/1520-0485(1982)012<1292:ARITGO>2.0.CO;2, 1982. a, b, c
Flament, P., Lumpkin, R., Tournadre, J., and Armi, L.: Vortex pairing in an unstable anticyclonic shear flow: discrete subharmonics of one pendulum day, J. Fluid Mech., 440, 401–409, https://doi.org/10.1017/S0022112001004955, 2001. a, b
Furey, H., Bower, A., Pérez-Brunius, P., Hamilton, P., and Leben, R.: Deep eddies in the Gulf of Mexico observed with floats, J. Phys. Oceanogr., 48, 2703–2719, https://doi.org/10.1175/JPO-D-17-0245.1, 2018. a
Gabor, D.: Theory of communication, Proc. IRE, 93, 429–457, https://doi.org/10.1049/ji-1.1947.0015, 1946. a, b, c
Garreau, P., Garnier, V., and Schaeffer, A.: Eddy resolving modelling of the Gulf of Lions and Catalan Sea, Ocean Dynam., 61, 991–1003, https://doi.org/10.1007/s10236-011-0399-2, 2011. a
Gonella, J.: A local study of inertial oscillations in the upper layer of the ocean, Deep-Sea Res., 18, 775–788, https://doi.org/10.1016/0011-7471(71)90045-3, 1971. a
Gonella, J.: A rotary-component method for analyzing meteorological and oceanographic vector time series, Deep-Sea Res., 19, 833–846, https://doi.org/10.1016/0011-7471(72)90002-2, 1972. a
Griffa, A., Lumpkin, R., and Veneziani, M.: Cyclonic and anticyclonic motion in the upper ocean, Geophys. Res. Lett., 35, L01608, https://doi.org/10.1029/2007GL032100, 2008. a, b
Hall, C. A. and Leben, R. R.: Observational evidence of seasonality in the timing of Loop Current eddy separation, Dynam. Atmos. Oceans, 76, 240–267, https://doi.org/10.1016/j.dynatmoce.2016.06.002, 2016. a, b, c
Haller, G.: An objective definition of a vortex, J. Fluid Mech., 525, 1–26, https://doi.org/10.1017/S0022112004002526, 2005. a
Haller, G. and Beron-Vera, F. J.: Geodesic theory of transport barriers in two-dimensional flows, Physica D, 241, 1680–1702, https://doi.org/10.1016/j.physd.2012.06.012, 2012. a
Hamilton, P., Berger, T. J., and Johnson, W.: On the structure and motions of cyclones in the northern Gulf of Mexico, J. Geophys. Res.-Oceans, 107, 3208, https://doi.org/10.1029/1999JC000270, 2002. a
Harvey, A. C.: Forecasting, structural time series models and the Kalman filter, Cambridge University Press, Cambridge, UK, https://doi.org/10.1017/CBO9781107049994, 1989. a
Huang, J. and Yang, L.: Vakman's analysis in L2(ℝ), Int. J. Comput. Math., 88, 545–554, https://doi.org/10.1080/00207161003631869, 2011. a
Inoue, R., Faure, V., and Kouketsu, S.: Float observations of an anticyclonic eddy off Hokkaido, J. Geophys. Res.-Oceans, 121, 6103–6120, https://doi.org/10.1002/2016JC011698, 2016. a
Kirwan Jr., A. D., Merrell Jr., W. J., Lewis, J. K., Whitaker, R. E., and Legeckis, R.: A model for the analysis of drifter data with an application to a warm core ring in the Gulf of Mexico, J. Geophys. Res.-Oceans, 89, 3425–3438, https://doi.org/10.1029/JC089iC03p03425, 1984. a, b
Kirwan Jr., A. D., Lewis, J. K., Indest, A. W., Reinersman, P., and Quintero, I.: Observed and simulated kinematic properties of Loop Current rings, J. Geophys. Res.-Oceans, 93, 1189–1198, https://doi.org/10.1029/JC093iC02p01189, 1988. a
Kloosterziel, R. C.: Viscous symmetric stability of circular flows, J. Fluid Mech., 652, 171–193, https://doi.org/10.1017/S0022112009994149, 2010. a
Kourafalou, V., Androulidakis, Y., Le Hénaff, M., and Kang, H.: The dynamics of Cuba Anticyclones (CubANs) and interaction with the Loop Current/Florida Current system, J. Geophys. Res.-Oceans, 122, 7897–7923, https://doi.org/10.1002/2017JC012928, 2017. a
Kunze, E.: Near-inertial wave propagation in geostrophic shear, J. Phys. Oceanogr., 15, 544–565, https://doi.org/10.1175/1520-0485(1985)015<0544:NIWPIG>2.0.CO;2, 1985. a
Lankhorst, M.: A self-contained identification scheme for eddies in drifter and float trajectories, J. Atmos. Ocean. Tech., 23, 1583–1592, https://doi.org/10.1175/JTECH1931.1, 2006. a
Le Hénaff, M., Kourafalou, V. H., Dussurget, R., and Lumpkin, R.: Cyclonic activity in the eastern Gulf of Mexico: Characterization from along-track altimetry and in situ drifter trajectories, Prog. Oceanogr., 120, 120–138, https://doi.org/10.1016/j.pocean.2013.08.002, 2014. a, b, c
Le Hénaff, M., Kourafalou, V. H., Androulidakis, Y., Smith, R. H., Kang, H., Hu, C., and Lamkin, J. T.: In situ measurements of circulation features influencing cross-shelf transport around northwest Cuba, J. Geophys. Res.-Oceans, 125, e2019JC015780, https://doi.org/10.1029/2019JC015780, 2020. a
Lilly, J. M.: Element analysis: a wavelet-based method for analyzing time-localized events in noisy time series, P. Roy. Soc. Lond. A Mat., 473, 20160776, https://doi.org/10.1098/rspa.2016.0776, 2017. a
Lilly, J. M.: Kinematics of a fluid ellipse in a linear flow, Fluids, 3, 16, https://doi.org/10.3390/fluids3010016, 2018. a, b, c, d, e, f
Lilly, J. M.: jLab: A data analysis package for Matlab v1.7.0, Zenodo, https://doi.org/10.5281/zenodo.4547006, 2021. a
Lilly, J. M. and Gascard, J.-C.: Wavelet ridge diagnosis of time-varying elliptical signals with application to an oceanic eddy, Nonlin. Processes Geophys., 13, 467–483, https://doi.org/10.5194/npg-13-467-2006, 2006. a, b, c, d, e, f, g, h, i, j, k, l
Lilly, J. M. and Olhede, S. C.: Wavelet ridge estimation of jointly modulated multivariate oscillations, in: 2009 Conference Record of the Forty-Third Asilomar Conference on Signals, Systems, and Computers, 1–4 November 2009, Pacific Grove, California, USA, 452–456, https://doi.org/10.1109/ACSSC.2009.5469858, 2009a. a, b, c
Lilly, J. M. and Olhede, S. C.: Higher-order properties of analytic wavelets, IEEE T. Signal Proces., 57, 146–160, https://doi.org/10.1109/TSP.2008.2007607, 2009b. a, b, c, d, e, f
Lilly, J. M. and Olhede, S. C.: On the analytic wavelet transform, IEEE T. Inform. Theory, 56, 4135–4156, https://doi.org/10.1109/TIT.2010.2050935, 2010a. a, b, c
Lilly, J. M. and Olhede, S. C.: Bivariate instantaneous frequency and bandwidth, IEEE T. Signal Proces., 58, 591–603, https://doi.org/10.1109/TSP.2009.2031729, 2010b. a, b, c, d, e, f, g, h, i
Lilly, J. M. and Olhede, S. C.: Analysis of modulated multivariate oscillations, IEEE T. Signal Proces., 60, 600–612, https://doi.org/10.1109/TSP.2011.2173681, 2012a. a, b, c, d, e, f, g, h, i, j
Lilly, J. M. and Olhede, S. C.: Generalized Morse wavelets as a superfamily of analytic wavelets, IEEE T. Signal Proces., 60, 6036–6041, https://doi.org/10.1109/TSP.2012.2210890, 2012b. a, b, c
Lilly, J. M. and Pérez-Brunius, P.: A gridded surface current product for the Gulf of Mexico from consolidated drifter measurements, Earth Syst. Sci. Data, 13, 645–669, https://doi.org/10.5194/essd-13-645-2021, 2021a. a, b, c, d, e
Lilly, J. M. and Pérez-Brunius, P.: GulfDrifters: a consolidated surface drifter dataset for the Gulf of Mexico (Version 1.1.0), Zenodo, https://doi.org/10.5281/zenodo.3985916, 2021b. a
Lilly, J. M. and Pérez-Brunius, P.: The Gulf of Mexico Eddy Dataset (GOMED), a census of statistically significant eddy-like events from all available surface drifter data (Version 1.1.0), Zenodo, https://doi.org/10.5281/zenodo.3978803, 2021c. a
Lilly, J. M., Scott, R. K., and Olhede, S. C.: Extracting waves and vortices from Lagrangian trajectories, Geophys. Res. Lett., 38, L23605, https://doi.org/10.1029/2011GL049727, 2011. a, b, c
Lilly, J. M., Sykulski, A. M., Early, J. J., and Olhede, S. C.: Fractional Brownian motion, the Matérn process, and stochastic modeling of turbulent dispersion, Nonlin. Processes Geophys., 24, 481–514, https://doi.org/10.5194/npg-24-481-2017, 2017. a, b
Lipphardt Jr., B. L., Poje, A. C., and Kirwan, A.: Death of three Loop Current rings, J. Mar. Res., 66, 25–60, https://doi.org/10.1357/002224008784815748, 2008. a, b, c
Lumpkin, R.: Global characteristics of coherent vortices from surface drifter trajectories, J. Geophys. Res.-Oceans, 121, 1306–1321, https://doi.org/10.1146/annurev-marine-010816-060641, 2016. a, b
Lumpkin, R. and Elipot, S.: Surface drifter pair spreading in the North Atlantic, J. Geophys. Res.-Oceans, 115, C12017, https://doi.org/10.1029/2010JC006338, 2010. a
Lumpkin, R. and Pazos, M.: Measuring surface currents with Surface Velocity Program drifters: the instrument, its data, and some recent results, in: Lagrangian Analysis and Prediction in Coastal and Ocean Processes, edited by: Griffa, A., Kirwan Jr., A. D., Mariano, A., Özgökmen, T., and Rossby, H., Cambridge University Press, Cambridge, UK, 39–67, https://doi.org/10.1017/CBO9780511535901.003, 2007. a
Mallat, S.: A wavelet tour of signal processing, edn. 2, Academic Press, New York, USA, https://doi.org/10.1016/B978-0-12-374370-1.X0001-8, 1999. a, b, c
Matsuura, T. and Yamagata, T.: On the evolution of nonlinear plantary eddies larger than the radius of deformation, J. Phys. Oceanogr., 12, 440–456, https://doi.org/10.1175/1520-0485(1982)012<0440:OTEONP>2.0.CO;2, 1982. a
McKiver, W. J. and Dritschel, D. G.: The stability of a quasi-geostrophic ellipsoidal vortex in a background shear flow, J. Fluid Mech., 560, 1–17, https://doi.org/10.1017/S0022112006000462, 2006. a
Meacham, S. P. and Flierl, G. R.: Vortices in shear, Dynam. Atmos. Oceans, 14, 333–386, https://doi.org/10.1016/0377-0265(89)90067-5, 1990. a
Merrell Jr., W. J. and Morrison, J. M.: On the circulation of the western Gulf of Mexico with observations from April 1978, J. Geophys. Res.-Oceans, 86, 4181–4185, https://doi.org/10.1029/JC086iC05p04181, 1981. a
Munk, W. H., Armi, L., Fischer, K., and Zachariasen, F.: Spirals on the sea, P. Roy. Soc. Lond. A Mat., 456, 1217–1280, https://doi.org/10.1098/rspa.2000.0560, 2000. a
Nerlove, M.: Distributed lags and unobserved components in economic time series, in: Ten Economic Studies in the Tradition of Irving Fisher, John Wiley & Sons Inc., New York, USA, 127–169, 1967. a
Olhede, S. C. and Walden, A. T.: Generalized Morse wavelets, IEEE T. Signal Proces., 50, 2661–2670, https://doi.org/10.1109/TSP.2002.804066, 2002. a
Padilla-Pilotze, A. R.: Evidence of a cyclonic eddy in the Bay of Campeche, Cienc. Mar., 16, 1–14, https://doi.org/10.7773/cm.v16i3.703, 1990. a, b
Papoulis, A.: The Fourier integral and its applications, McGraw-Hill Book Company Inc., New York, USA, 1962. a
Park, J., Lindberg, C. R., and Vernon III, F. L.: Multitaper spectral analysis of high-frequency seismograms, J. Geophys. Res.-Oceans, 92, 12675–12684, https://doi.org/10.1029/JB092iB12p12675, 1987. a
Percival, D. B. and Walden, A. T.: Spectral Analysis for Physical Applications, Cambridge University Press, New York, USA, https://doi.org/10.1017/CBO9780511622762, 1993. a
Pérez-Brunius, P., García-Carrillo, P., Dubranna, J., Sheinbaum, J., and Candela, J.: Direct observations of the upper layer circulation in the southern Gulf of Mexico, Deep-Sea Res., 85, 182–194, https://doi.org/10.1016/j.dsr2.2012.07.020, 2013. a, b
Picinbono, B.: On instantaneous amplitude and phase of signals, IEEE T. Signal Proces., 45, 552–560, https://doi.org/10.1109/78.558469, 1997. a, b, c
Ripa, P.: On the stability of elliptical vortex solutions of the shallow-water equations, J. Fluid Mech., 183, 343–363, https://doi.org/10.1017/S0022112087002660, 1987. a
Ruddick, B. R.: Anticyclonic lenses in large-scale strain and shear, J. Phys. Oceanogr., 17, 741–749, https://doi.org/10.1175/1520-0485(1987)017<0741:ALILSS>2.0.CO;2, 1987. a
Søiland, H. and Rossby, T.: On the structure of the Lofoten Basin Eddy, J. Geophys. Res.-Oceans, 118, 4201–4212, https://doi.org/10.1002/jgrc.20301, 2013. a
Testor, P. and Gascard, J.-C.: Large-scale spreading of deep waters in the western Mediterranean Sea by submesoscale coherent eddies, J. Phys. Oceanogr., 33, 75–87, https://doi.org/10.1175/1520-0485(2003)033<0075:LSSODW>2.0.CO;2, 2003.  a
Thomson, D. J.: Spectrum estimation and harmonic analysis, P. IEEE, 70, 1055–1096, https://doi.org/10.1109/PROC.1982.12433, 1982. a
Trodahl, M., Isachsen, P. E., Lilly, J. M., Nilsson, J., and Kristensen, N. M.: The regeneration of the Lofoten Vortex through vertical alignment, J. Phys. Oceanogr., 50, 2689–2711, https://doi.org/10.1175/JPO-D-20-0029.1, 2020. a
Vakman, D.: On the analytic signal, the Teager-Kaiser energy algorithm, and other methods for defining amplitude and frequency, IEEE T. Signal Proces., 44, 791–797, https://doi.org/10.1109/78.492532, 1996. a, b, c
Vázquez De La Cerda, A. M., Reid, R. O., DiMarco, S. F., and Jochens, A. E.: Bay of Campeche circulation: an update, in: Circulation in the Gulf of Mexico: Observations and Models, edited by: Sturges, W. and Lugo-Fernández, A., no. 161 in Geophysical Monograph Series, American Geophysical Union, 279–293, https://doi.org/10.1029/GM161, 2005. a, b
Veneziani, M., Griffa, A., Garraffo, Z., and Chassignet, E.: Lagrangian spin parameter and coherent structures from trajectories released in a high-resolution ocean model, J. Mar. Res., 63, 753–788, https://doi.org/10.1357/0022240054663187, 2005a. a
Veneziani, M., Griffa, A., Reynolds, A. M., Garraffo, Z. D., and Chassignet, E. P.: Parameterizations of Lagrangian spin statistics and particle dispersion in the presence of coherent vortices, J. Mar. Res., 63, 1057–1083, https://doi.org/10.1357/002224005775247571, 2005b. a
Young, W. R.: Elliptical vortices in shallow water, J. Fluid Mech., 171, 101–119, https://doi.org/10.1017/S0022112086001386, 1986. a